Texas Beer Freedom Blog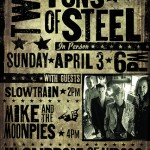 Support Texas Beer Freedom's effort to craft the future of beer in Texas! 1 pm - Doors open 2 pm - Slowtrain 4 pm - Mike and the Moonpies 6 pm - Two Tons of Steel Silent Auction featuring craft beer memorabilia, items from local businesses and more to be announced! Order tickets in advance [...]
Today many Texas Beer Freedom volunteers and HB 660 supporters lobbied for the cause at the Capitol — the HB 660 hearing went very well! Supporters from San Antonio to Denton participated in the events today. No question, the contributions from all had a significant impact. Thank you! Thanks also need to be extended to Representative Mike [...]
Lobby Day at the Capitol!
Next Tuesday, March 22nd is both the day the Licensing & Procedure Committee will hear the HB 660 Brewpub bill, as well as our lobby day to promote Texas Beer Freedom and the Texas Craft Beer business ! We need your support! If you are available to visit the Capitol next Tuesday and would like [...]
Economic impact of the Texas craft brewing industry
In these difficult economic times, Texas needs every portion of the economy growing as quickly as possible. The Texas Craft Brewers Guild has just completed an economic study that shows how craft beer benefits the state economy at large, and how H.B. 660 would contribute to economic growth. Read the full report here. Here are [...]
Write your Legislator
The response from craft beer supporters across the state has been amazing for Texas Beer Freedom and HB 660, whether at local rallies or through our social media platforms including Twitter and Facebook. The most frequent question we hear is, "What can I do to help this cause?" There are several ways to help, but [...]
Supporters
Complete SEO in Austin, Texas - Austin-based digital marketing company
R3EWaste Computer & Electronics Recycling - Austin-based ewaste recycling company with a zero-landfill policy.
Red Owl Roofing Company - Austin-based roofing contractors providing residential and commercial roofing services in the greater Austin, Texas area
Hero Moving Company - Georgetown movers providing residential and commercial moving services. The majority of movers are first responders.
Torres Tree Service in Irving - Tree service company serving the DFW Metroplex.
Green Leaf AC & Heating - Based in Central Texas, Green Leaf provides HVAC/AC Repair & Replacement in Austin and the surrounding areas.
Kyle Rhodes Insurance - Allstate insurance agency with locations in Austin and Buda.
Fast Dumpster - Roll-off rental and waste management company
SurveyWorks Land Surveying - Land Surveying company serving Austin and Dallas.
Clean Green Power Washing - Pressure washing company in Austin. Provides services around the Central Texas region.